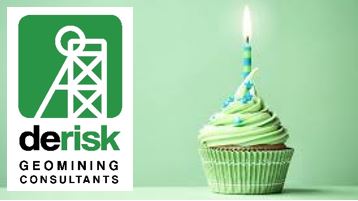 Derisk Geomining Consultants celebrated its first anniversary on 1 March 2018. In the 12 months since commencement, Derisk has secured 19 engagements with a further 6 proposals under negotiation. To date, our projects have been in Australia, Indonesia, Singapore,...
read more
23 March 2018.  Unlocking the Benefits of Better 'Driller-Geologist' Partnerships
A one day workshop being held in Brisbane which brings together geologists and drillers in an open forum to strengthen the partnership and provide greater mutual benefits.
https://www.aig.org.au/events/qld-adia-friday-seminar-mar18/
25 – 27 July 2018.  The AusIMM Life-of-Mine Conference 2018
The latest in the Life-of-Mine conference series being held in Brisbane. The conference attracts a broad range of disciplines with a diversity of affiliations and views across the life of  mine cycle.
14 – 18 October 2018.  Australian Geoscience Council Convention (AGCC 2018)
The inaugral AGCC 2018 will be held in Adelaide and will focus on the Asia Pacific region. The convention is supported by all eight Member Organisations of the Australian Geoscience Council.