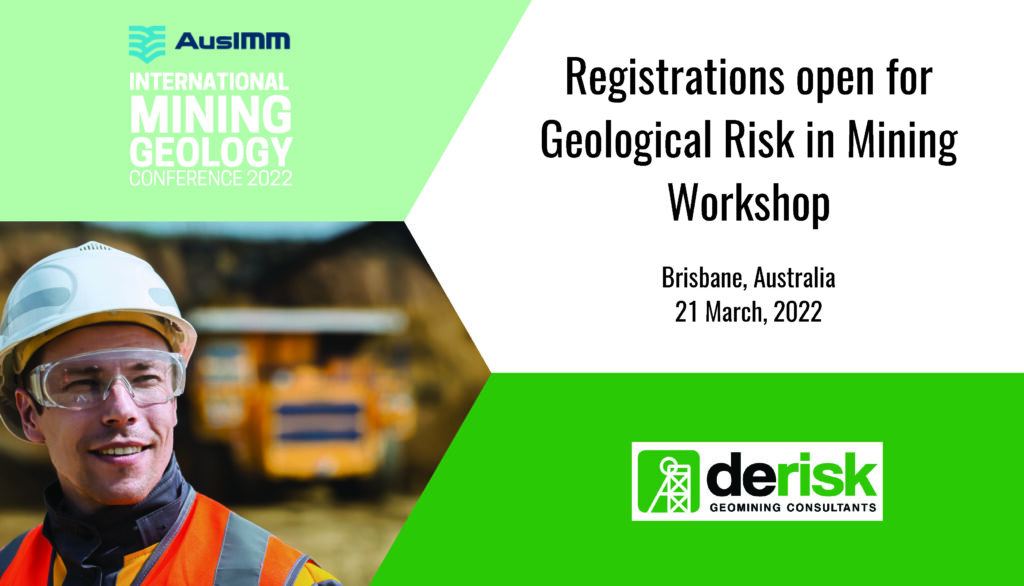 Derisk Geomining Consultants, in conjunction with the AusIMM International Mining Geology Conference 2022, is presenting a workshop on Geological Risk in Mining: Why everyone needs to understand and manage it better. The workshop will be presented by Mark Berry, Director and Principal Geologist of Derisk on Monday 21 March in Brisbane, Qld.
Geological information contributes to all stages of exploration, feasibility, development, mine operations and closure, including estimates of Ore Reserves, project capital/operating costs and therefore mine profitability.  This workshop will identify and assess the sources of geological uncertainty that feed into Mineral Resource and Ore Reserve estimates. Case studies demonstrating geological risks and implications from pit to port, including financial costs will be presented, together with risk management and communication strategies to assist geologists to convey geological uncertainty.
This workshop is aimed at all geologists, from undergraduate level and no prior knowledge is assumed. All participants will receive a full-colour, bound workshop manual.
How to register
You do not need to register for the conference to attend this workshop. Delegates to the International Mining Geology Conference 2022 can register for the workshop here. If you wish to attend the workshop only please register here.